zavvie Modern Marketplace Mindset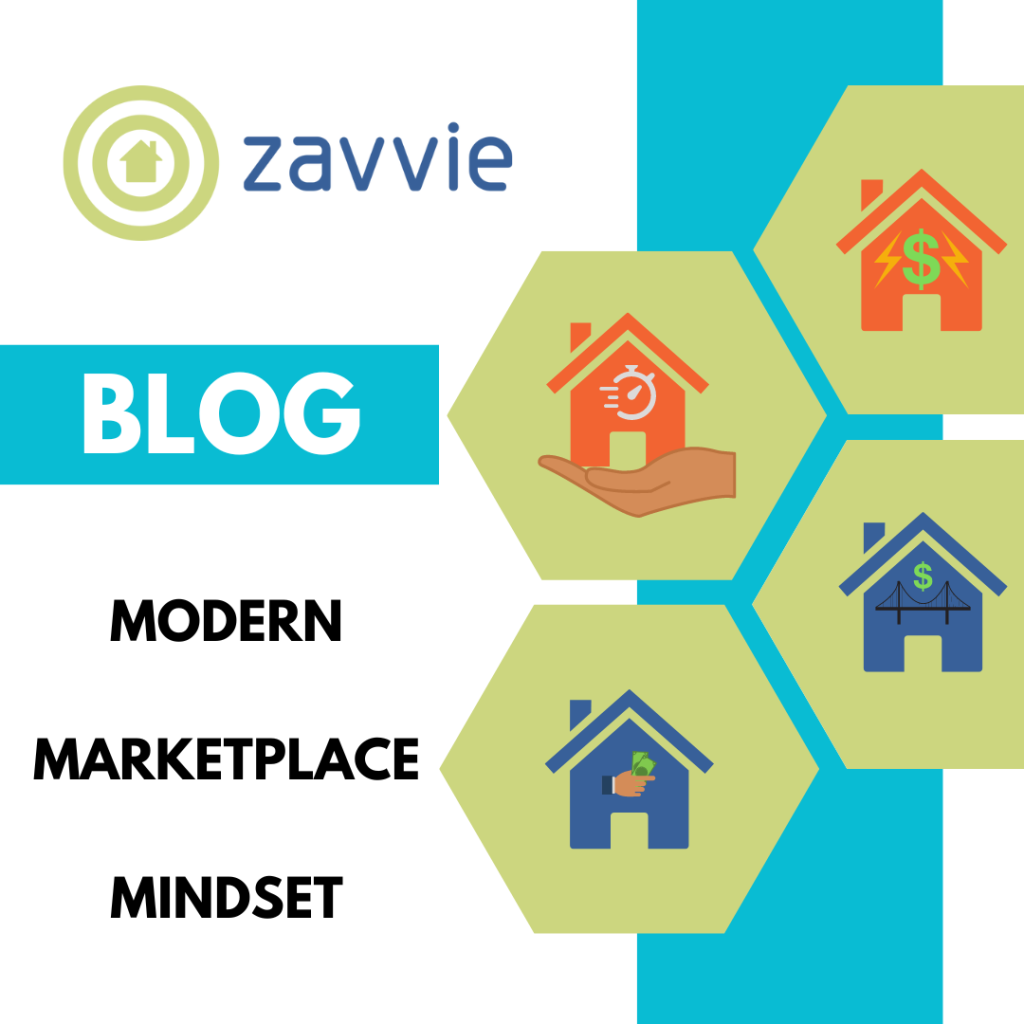 Brokerages and their agents are always looking for innovative ways to separate themselves in a crowded real estate market. This means Brokerages need to adopt technologies entering the market offering modern solutions. zavvie makes accessing these offers a seamless experience by automating the solution provider offerings into the brokerage's day to day business, all under the brokerage's brand identity. When brokerages adopt a marketplace strategy, the right mindset is integral to create unique benefits for every client. 
Buying Solutions: 
There are so many essential benefits to homeownership that clients weigh as they determine which is important to them while purchasing a home.  Benefits include creating stability and generational wealth for your family for years to come; having access to your choice of education for your children; and championing housing equality in your community. Having said that, buyers are facing immense challenges in today's intricate market. One major challenge is the continuing increase in mortgage rates buyers are faced with. Another challenge is the lack of home inventory which diminishes the chances of buyers landing their dream home. The question is, what are you doing for buyers to help them conquer these challenges and get them into their home of choice?
Use a Cash Offer

: Client's fully backed cash offers are 4x more likely to be accepted than a financed offer. Cash offers also save an

average of 12% off the list price of the home

. Cash offers provide clients confidence with a quick close at the right price and the peace of mind knowing that the offer will be accepted. 

Be a Homeownership Accelerator

: Give clients the ability to move into their dream home without using a down payment or having a good credit score. Homeownership Accelerator programs let clients choose the home they want to move into, and rent the house to them, while offering personalized financial coaching, until they are financially prepared to purchase their home. Both the solution provider and Agent have the same goal in mind:

Making the client a homeowner.
Provide a Home Warranty:

Allow clients to protect their investment for the long run. Homes are some of the biggest purchases that people make in their lives, so mitigate the financial risk by applying your home warranty program. The peace of mind knowing their precious investment's repairs and maintenance are covered and easily managed is priceless. 
Selling Solutions:
Sellers are beginning to see the tide of the sellers market receding as buyers prepare to move in. Houses are starting to stay on the market longer, and less offers are being made. Clients have many different needs when it comes to selling their home, so it's critical your brokerage can fulfill those needs. Are you wondering how you can help clients maximize the value of their home?
Use Modern Bridge:

Give clients the ability to settle into their new home before selling the old one. This gives them the opportunity to prep and stage their house once it's empty for the best presentation possible, obtaining the best offer. On top of that, they don't have to move twice or balance two mortgages, which saves them time and money.

Initiate Instant Sale:

Speed and certainty are the two key factors of every transaction. iBuyers provide clients with a quick, efficient and definite sale of their home, in cash. 

Add a Listing Concierge:

Take the stress out of clients presale renovations. Use a trusted partner to define and manage your project and source venders handle all necessary renovations, and sell their home for more than they thought possible! Clients don't pay for the renovations upfront, they net them out at the sale of your home, leaving you with the profit.. Get the best bang for the buck with the least amount of work possible.
Brokerages and agents using zavvie, have evolved from the typical "Open Market Mindset", creating an advantage for every client. All of these modern solution providers are adapting to the evolving market and providing clients with different types of offers that have never been seen before in the industry! It is crucial as a brokerage to stay ahead of the trends and offer them to clients early and often. As the industry mindset evolves, it's essential that brokerages' mindset follows suit and can continue to adapt to the modern marketplace.