Why the Metaverse, Blockchain, Crypto, NFTs, and Defi are Important in Real Estate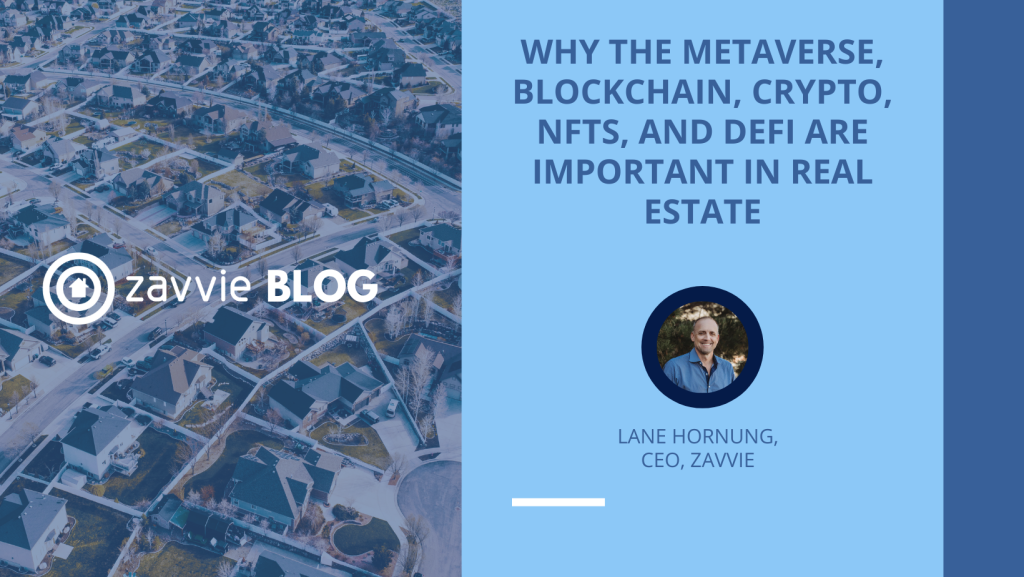 Our CEO and founder, Lane Hornung, had the chance to speak at Inman Connect New York this April, giving a keynote demystifying the emerging technology that we're hearing about throughout the real estate market. It's time to separate hype from reality and gain the knowledge and confidence to talk about these technologies with your clients.
Let's start with Web 3 
Web 3 is the name of the infrastructure/ecosystem that encompasses all of these technologies (Metaverse, Blockchain, Crypto, NFTs, and Decentralized Financing).
Web 1 was what existed in the 90s. Static read-only webpages were the norm, and interactions were minimal. Web 2, the infrastructure we are "outgrowing," is the web you know today. Pages you can interact with that are responsive to your device. Web 2 took the "read" aspect and added a "write" aspect that exponentially fueled communication and the share of information. 
How is Web 3 different? 
Web 3 takes the read and write aspect one step further. It includes an "own" aspect for the things and space you create or occupy within the system. Ownership is the foundational concept behind Web 3. The users' ownership is more than their digital asset; that one asset is a component of the entire system at large. This promise of ownership and the decentralization of financing make this a viable option for the real estate market. 
So, how do you keep track of your digital assets on Web 3?
Tokens.
What's a token? 
It's a trackable record of ownership. There are two types of tokens:
The first: Fungible Tokens. 
A Fungible Token is an asset that is interchangeable with other Fungible Tokens. Think digital/cryptocurrencies here. Clients are curious about how they can leverage these Tokens in a real estate transaction, and some companies are already buying with crypto.
The Second: Non-Fungible Tokens.
Non-Fungible Tokens (NFTs) are ownership tokens for unique assets, not interchangeable with others. The Token and underlying asset are unique. NFTs have the potential to make a splash in the real estate market. 
The company Propy is already completing sales of NFTs in the real estate market. 
Now, onto Blockchain.
Blockchain is the technology infrastructure that enables the Web 3 ecosystem that uses a series of transactions stored in a distributed system of computers.
The Block could have a transaction record (maybe multiple) or a SMART contract attached within. The Block is connected to Blocks "in front and behind" through a unique connection ("a bunch of code"). Parallels in real estate to this "chain" can be drawn from titles, as they are connected to each part of a transaction.
Will blockchain be used for titles?
"I sure hope so."
"When? Don't know. because there are about 10,000 county clerks that have to go along with the party that will have to switch their systems over to blockchain. I'm not holding my breath for that and I own a title company.", Lane said.
Virtual Real Estate, The Metaverse
Metaverse is a virtual 3D world where people can interact, play, work, socialize, etc. Companies like eXp have a metaverse for their agents to collaborate in.  There's growing interest in this and four leading virtual real estate companies already selling virtual real estate. 
Sandbox is a company that sells virtual real estate. If you wanted to buy a plot next to Snoop Dogg in the "Snoopverse" you could (for $450,000). Then you'd have to build a virtual home, buy a virtual Lamborghini and virtual designer clothes, etc. 
"If this doesn't make sense to you, get over it. The Metaverse doesn't care."
Buying virtual real estate seems like a given when talking to younger, digitally native, generations. It makes sense to them, older generations are still wrapping their heads around it. Either way, agents are transacting $1 billion in virtual real estate transactions in a given year.
"As a broker-owner, … am I gonna throw all that out and become a metaverse-only shop? No," Hornung said. "But am I going to support agents in my company that become a metaverse specialists? Absolutely."
Metaverse will become a good niche in the real estate industry, like equestrian properties and golf course community specialists. The Metaverse market is growing 7000% year over year right now, so it might be smart to have a Metaverse specialist in your back pocket. 
What is Defi? 
Decentralized finance, real estate is all about finance, that's where the action is. New alternative financing options are here, for example, Power Buyers, and Homeownership Accelerators that allow the client to become homeowners with their money. This is Defi 1.0, it's tools you should be using already in your brokerage. They're real, right now. 
"At my company, zavvie, we have this front-row seat at what's happening," Hornung said. "And it's pretty cool because this is the first wave, but there's another wave coming." future is home-financing alternatives, Hornung said.
Defi 2.0 will use web3 tech to open up the playing field and create access to homeownership. Technologies like NFTs, SMART Contracts, and other Defi offerings are how we accomplish this. It will be a gamechanger for real estate and transform the market. 
Homeownership is the biggest engine of upward social mobility in this country. Harvard Joint Center of Housing determined that homeowners are 42x wealthier than renters later in life.
Defi will enable more and more people to have access to homeownership, that's the hope. What we need to do as practitioners, whether you're a technologist or practitioner, is become confident in talking about and bringing these options to your clients. That is the future of our industry.