The Best Real Estate Solutions for a Shifting Market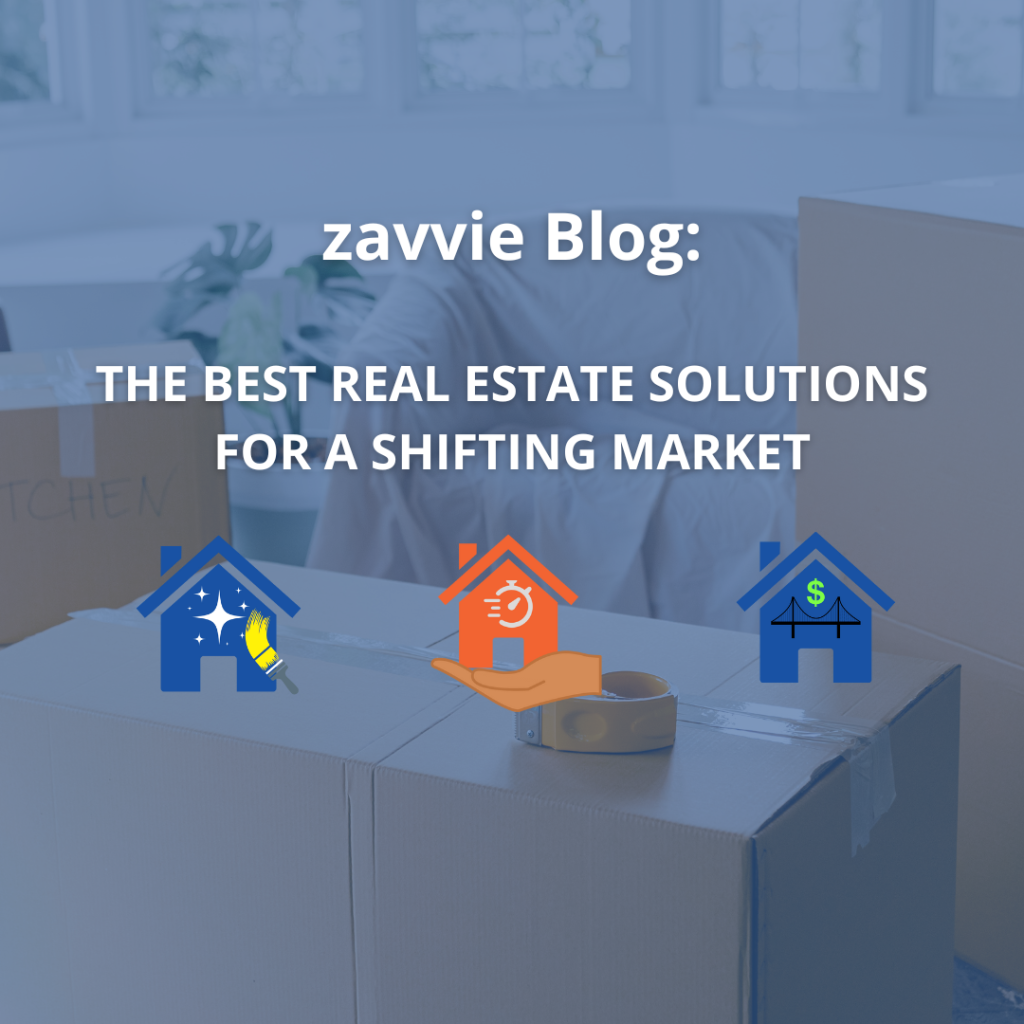 The Real Estate Market is Shifting
Mortgage rates haven't been this high since the early 2000s, around the time that first-time homebuyers were in their awkward-teen years. As y2k trends are coming back around, so are the high mortgage interest rates that followed 9/11, into mid-2002. But, today's "obscene" interest rates aren't notably higher than historical averages from the 70s, 80s, and 90s. So, what are the best real estate solutions for a shifting market?
As Mike Del Prete put it – 2021 is an outlier, not a benchmark. He looked at existing home sales in the US over the past ten years, finding that 2021 produced 18% more home sales versus the historical average of the same period. Mike notes that 2022 home sale projections are expected to be <1% below the same average. While this contrast may seem drastic, it points to real estate markets stabilizing from the white-hot markets of the past two years. 
As we shift back to real estate reality, how do buyers and sellers make the most of their money and equity in this climate? Agents are going to need to offer their clients more than just pricing and negotiating strategies if they want to get people off the sidelines and into the market. 
Liz Luke, Vice President of Broker Success and operations at zavvie, puts it best: "Where we see brokerages dig deeper and adopt new ideas is where brokerages rise above those who don't. Now more than ever, investing in your agents and protecting their sphere is so important." 
The Market Challenges Facing Buyers
Let's look at buyers, the group of people impacted the most by the rate hikes. A lot of home searches came to a screeching halt in mid-2022, but there are still buyers out there, desperate to get into a new home despite the mortgage rates. 
What are agents able to do for homebuyers looking to combat these hikes, and still get them into homes they love that fits their budget? 
Giving homebuyers the option to make a Cash Offer on their next home, sets buyers up for an easier win and a quicker closing.  On top of that, cash offers are helping homebuyers win their dream home at a lower price, saving them money upfront and over the lifetime of their mortgage. By using a Cash Offer, buyers can start capturing home appreciation faster, a massive benefit when housing affordability is at an all-time high and continually exacerbated by raising interest rates. Cash Buyers can save up to 12% on the list price of their home, saving them $60,000 on a $500,000 mortgage. 
The rent-to-own model isn't a groundbreaking concept, but there are new options for buyers that can help them get into their dream home now, and purchase it when they're ready. Homeownership Accelerators win buyers their dream home by making a cash offer on the home, then leasing it back to them until they're ready to buy. The best part; while buyers are making their monthly lease payments, part of that payment is being saved toward their down payment to help them when they are ready to purchase the home. What sets Homeownership Accelerator programs apart from other rent-to-own programs is that most providers offer financial coaching to help their renters build their credit scores so they can easily secure their mortgage, and have a substantial down payment when the time comes. 
Recently, Homeownership Accelerators have seen adoption beyond just under-qualified buyers. Home shoppers on the fence about whether or not to buy are adopting these programs to wait out the interest rate conundrum and the appreciating home values across the country. Many consumers opt for this solution knowing that they can start realizing the benefits of homeownership, without being locked into a high-interest rate and can eventually purchase the home at a predetermined value down the road if they so choose.
Homeownership Accelerators help agents serve more buyers, and buyers they couldn't serve previously. They're able to start helping the kids of older clients or younger siblings of clients who haven't been able to break into the real estate market just yet; An insight offered by Vice President of Sales, Maya Velasquez, in a recent zavvie webinar.
The Shifting Market for Sellers
Buyers and sellers alike are trying to make sense of the changing tides in the real estate market, and sellers have become just as hesitant to list as buyers have been to make offers. Markets are seeing homes spend more time on the market, as well as less competitive offers than sellers have come to expect over the last few years. Pricing strategies and seller expectations aren't new challenges, but for less-experienced agents, these conversations are uncharted waters. What are agents able to do to achieve the offer sellers are expecting, and how can agents help sellers see past these challenges while overcoming their fears of being a buyer themselves?
To get the most value out of a seller's home, proper preparations, repairs, and upgrades need to be made to sell for top dollar. Using Listing Concierge solutions allow sellers to get their home repaired & ready to sell for top-dollar, with flexible financing of those repairs. Sellers can choose what repairs and upgrades to make to ensure the maximum value for their homes. Listing Concierge solution providers manage projects and source trusted contractors to get the jobs done, on time. So- sellers don't have to pay for these renovations out-of-pocket, upfront. The partners work with seller's agents to net out the project costs at closing, usually resulting in a nice return on investment for the home seller – up to 252%, according to Revive. Properly prepared homes on average sell 72% faster than not-so-turnkey homes, Helping to grow your down payment for your next home. 
"The chances of being able to list the home, going under contract, and closing, increase quite a bit if you prep it correctly." – Lane Hornung, CEO, and Co-founder of zavvie
As markets and solution providers across the country are finding their new equilibrium, some are starting to rethink the innovative models that have been succeeding over the last few years. As iBuyers are seemingly losing their market share and some are even closing up shop, Modern Bridge solutions are beginning to gain traction where instant sale options previously dominated. While the sale-leaseback model isn't a new concept, sellers are gravitating toward the flexibility that the offering provides. Companies like EasyKnock and Revive are buying homes with cash and then leasing them back to sellers until they secure their next home. While similar to the Instant Sale model, this option creates more flexibility for home sellers, allowing them to stay in their homes until they find their next home. This model unlocks the equity built up in their homes, resulting in the buyers being able to make a cash offer when they buy their next home. This option helps sellers-turned-buyers avoid raising interest rates and appreciating monthly mortgage payments. The cash offer gives the buyer leverage they didn't previously have, helping them secure their next home at the best price, and giving them an upper hand in multiple offer scenarios.
Overcoming the Change
Brokerages across the nation have seen the benefits of the Cash Offer, Listing Concierge, Homeownership Accelerator, and Modern Bridge solutions. With partnerships like zavvie, a modern real estate marketplace that allows brokerages to offer all buying and selling options under their brand umbrella, brokerages are forging relationships with solution providers, and are leveraging them as partners, rather than competitors. By doing so they are expanding their services to buyers and sellers they wouldn't normally serve, and giving confidence to those on the sideline, unsure if now is the right time to brave the market. While others are seeing transactions dwindle, brokerages with all options available can keep their share of the transactions. People are still moving to and from homes, no matter the market condition, and having an option for each client's unique needs is helping brokerages stay in the game, while others are falling behind.