Learn About zavvie's Modern Marketplace Report for Q1 in 2022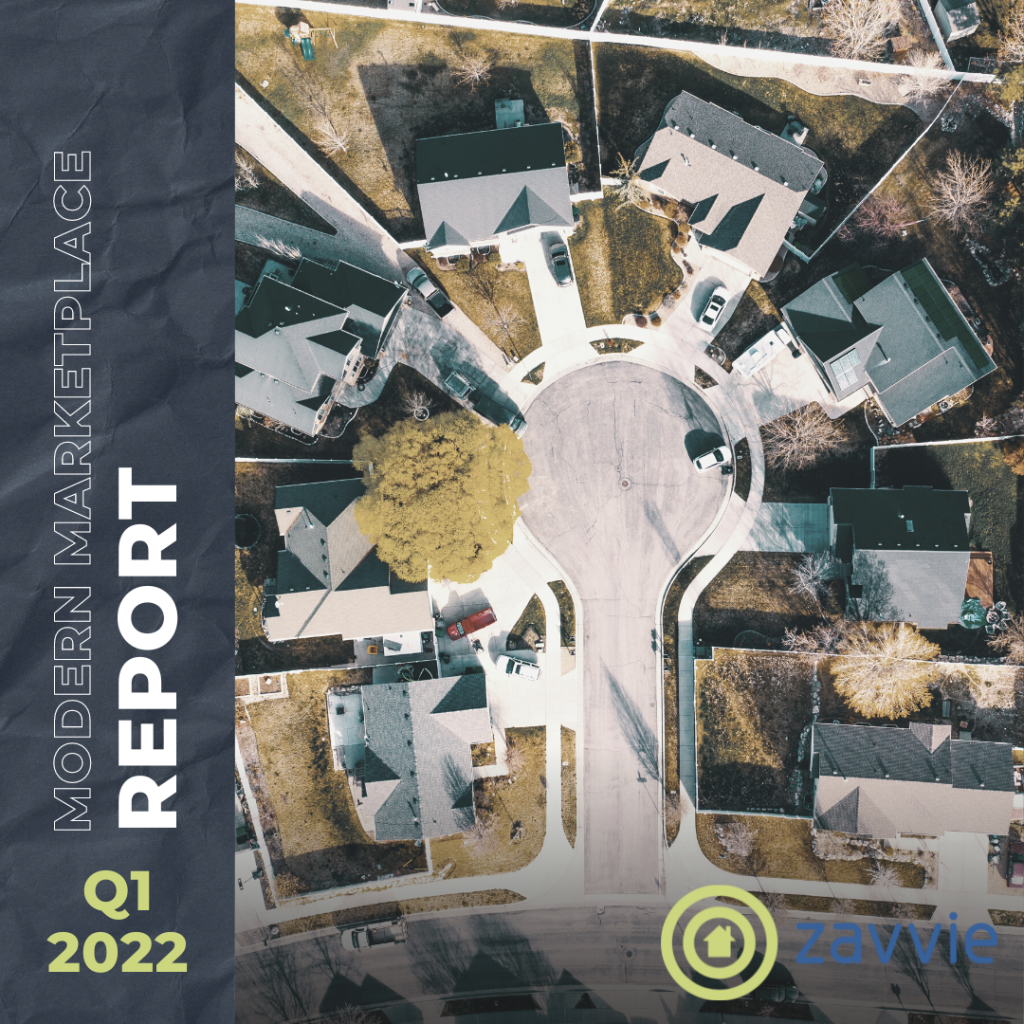 The zavvie marketplace combines alternative buying and selling solutions for agents to offer their clients. 
The modern marketplace has grown substantially; in 2021, we launched buying solutions to cater to clients on both sides of the transaction. 
Of those solutions, Cash Offer and Modern Bridge have seen impressive adoption, allowing clients to make contingency-free cash offers on their dream home and the option to buy before they sell their current home with modern bridge options. 
Homeownership Accelerator programs introduced in 2021 have been generating a lot of excitement. zavvie partners in the industry have raised over $1.8 Billion in capital and are fighting to create equality in the real estate market. Homeownership Accelerator programs purchase a client's dream home, rent to them, and offer financial coaching to build their savings and increase their credit to qualify for a mortgage to finance the home.
zavvie's Latest Modern Marketplace Report offers rich insights into the dynamics of the modern market and what strategies will help drive your bottom line. Q1 lit up the "fasten seatbelt" light for the turbulence in the 2022 market. Now is the time to get familiar with new strategies to drive business, especially when only 24% of consumers think its a good time to buy. 
The Modern Marketplace Report explores the effects alternative solutions are having on the market and the impact they can make for your business. 
Alternative solutions have established themselves in markets nationwide, and are continuing to grow their footprint. Q1 2022 saw substantial growth in the markets served and expanded "buy-boxes" for homes (to $2.5 Million in some markets!), making more homes and consumers eligible to participate. 
iBuyers began expanding their operations into previously challenging markets due to higher home prices and unpredictable inventory or prices. Markets include the Bay Area, New York, New Jersey, and Massachusetts.
Power Buyer Knock, expanded into 75 markets, creating a 307% increase in transaction volume. iBuyer Opendoor, reached 50 markets served. 
Throughout the Southeast, Listing Concierge services expanded into Tennessee and Texas. The pre-sale improvements ensure maximum value when selling your home. Homeownership Accelerator, Landis launched in Florida with up to a $500k budget – even for first-time buyers. 
Power Buyers nationwide saw a steady amount of transactions compared to the previous quarter and a jump in the average home purchase price. Offer acceptance remains around 40% in modern bridge transactions. 
iBuyers continued simplifying the selling process, and some proved net profitable in Q1. Cash offers from iBuyers average 98.7% of the market price, which is good for avoiding the stress of listing and selling. Seller concessions have dipped under 3%, and service fees are comparable to real estate commissions. 
Unfinished repairs and improper prepping can leave up to 20% of a home's value untapped when selling. Listing concierge services, with an average cost of $42k, make updates and upgrades to the home. Project costs are settled at closing and yield a positive return. Meaning clients do not have to pay out of pocket upfront. 
Homeownership Accelerator programs empower buyers, many of them first-time home buyers, to make a cash offer on their dream home. Clients lease the house while getting financial coaching to build their savings and credit for a mortgage approval to buy down the line. By improving the Lease-to-own model, homeownership accelerators are fighting for equality in housing and are available in 36 states offering up to a $500k purchase budget. 
Across the board, customer satisfaction is very high, when it comes to these solutions. Consistently ranking 9/10 as satisfied, many sellers would likely use modern solutions again!