Broker Owners Brian Megliola and Erin Cestero Discuss iBuying in our Latest RISMedia Webinar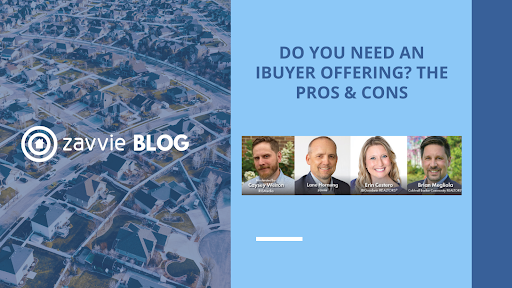 As iBuying in real estate continues to grow, more and more brokers are trying to navigate this trending shift in business to generate more revenue. But even in an increasingly more tech-savvy industry, is iBuying necessary for brokerages? In a recent webinar, Brokers Brian Megliola, Coldwell Broker Community REALTORS, and Eric Cestero, JBGoodwin REALTORS explore the pros and cons of iBuyer offerings and what success should look like for brokers, agents, and clients. Here are their answers to important questions about iBuyers, and how they impact brokerages and their agents. 
Question: What is the state of iBuyers in the industry and how has it evolved in your business?
Erin: My market is in San Antonio, and iBuyers are always a topic of discussion within my market. When they first entered, it was actually something that we would coach our agents against and not lose a ton of listings to. Then all of a sudden we started losing a lot of listing opportunities to iBuyers, so we had to look at opportunities for competing and making sure our agents stayed at the center of the conversation. So we shifted very quickly to be able to offer that solution, and now we find it to be a very consistent part of our market. 
Brian: There wasn't an option for iBuying in my market at all, but as a broker, I felt that we either needed to be ready for an iBuyer to come in, or figure out how to do it ourselves. We wanted to be able to compete with someone entering the market, and this platform gave me the opportunity to create my own iBuying program and establish myself within the market.
Question: Has iBuying gotten to the point where clients are asking for it? Or is it still more of an educational process?
Erin: They are absolutely knocking on our door for it, it's on the radio, it's on commercials, it's on the billboards, so our consumers are definitely curious about it. It's a really powerful tool for our agents to unlock business and it allows us to market solutions that make the overall process less stressful for a seller to make that move. 
Brian: We definitely have clients calling in and looking for that quick sale aspect. There are so many different reasons people sell homes, and a lot of people don't want to go down the path of a traditional market plan. A lot of the people we see are families inheriting properties, and they don't want to put $20,000 into the house, they just want to sell it. It's also a great conversation piece with clients, and the more options your agents have when going to the listing table, the more informed the agent becomes and allows the client to make the best decision for themselves
Question: Where does iBuying fit into the business model?
Erin: Originally, I started seeking out these individual companies with offerings, and I started partnering with them directly. Very quickly it became daunting for my agents to keep up with. I was constantly having to come up with education,  it was very hard to keep it all straight, and our agents were losing confidence in their ability to sell these offerings. We called a couple of colleagues to ask how they handled this and they introduced us to zavvie. With zavvie, we were able to white-label it. Instead of having to remember all these different companies and their offerings, we have one zavvie platform we can use which has all the options on it. 
Brian: For me, I needed a platform to do it. When I got onto the zavvie platform, I saw there was an option for HomeVestors. I started communicating with them, and I ended up buying a franchise of HomeVestors. Within a three-month period, I went from going onto the zavvie platform to franchising with HomeVestors and it's been phenomenal. The first month we were able to get 20 leads, put 3 or 4 of those under agreement, and ended up getting 4 listings out of it as well. About 50% of the calls I got resulted in an iBuying option purchase, which one of my agents will end up selling for a commission after the rehab. It's a lead generation machine. 
Question: Why is having this iBuyer offering so beneficial to a broker?
Erin: It gives our agents confidence, no matter the situation. From our agent partners, we've received nothing but positive feedback. It is also a huge recruiting tool for me. To be able to say we are a state-of-the-art brokerage, and we are able to stay ahead of these changes in the market Is extremely powerful. 
Brian: It has unlocked things that I haven't even thought about being a broker-owner. It has created new types of ancillary incomes and new revenue streams. By building our own iBuyer program, we are now purchasing homes as a brokerage through the Homevestors section on the zavvie app, while using cash out of their pocket. It's a minimal expense to me to provide these sellers with an iBuying option, and it puts my agents at the center of the transaction where they can make a commission off of it. 
Question: What type of agents are looking for this product?
Erin: For us, it's been adopted by agents all across the board, and really we've tried to engrain it in our culture. Every sales meeting we're talking about it. We're sharing success stories to build agent confidence in meetings as well. The zavvie platform is extremely easy to use, so I am able to pull it up in meetings and show agents in order to take away that fear aspect. I think it's important to state that stressors are high with interest rates being the way they are, so agents are looking for ways to eliminate these worries, and having this tool available does just that for them.
Brian: For me, I've had agents from all levels reach out to me for this product. There are some that have a 20-year tenure in the industry, and some that have never closed on a house yet asking me about these options. Sellers for all levels of agents are curious about these iBuyers
Question: What are some opportunities and challenges of iBuying in the future?
Erin: It empowers our agents with very unique conversation points that they can have with their sphere. It also alleviates some of these "pain points" our agents are hearing about from their clients whether that be higher interest rates or anxiety of being a buyer in this competitive market. It's really helped us address a lot of these issues. 
Brian: I can tell you from the phone calls I'm getting, that it's in high demand, and the big companies know that, and they're gonna keep growing as they have. The opportunity is that you can be a part of it, the challenge is that I didn't have a way to become an iBuyer until I got onto the zavvie program. The conversations I can have now in terms of retention and recruiting for my agents are better, and now I am producing leads for them as well, so it benefits my agents well. iBuying isn't going anywhere, and there's a huge demand for people wanting to sell their houses quickly.